Take advantage of our core competences and save time, money and effort
With our top-of-the-line machinery, at Horex we can cut sheet and pipe blanks to the customer's design with speed and great precision. It is possible to order individual pieces, as well as series, either as a one-off order or in multiannual contracts.
Our products and services can be ordered quickly and easily at very competitive prices. It is up to you to decide what, when, how and in what quantities we should prepare for delivery, and then leave everything else to our excellent delivery service and our commitment to deadlines from the purchase order until shipment. As an additional service, we can prepare and/or develop the necessary documentation for your purchase order.
Our strengths are:
A professional and experienced team as a guarantee of high quality
Quick and efficient service
Great production capacity
Constant and ample stocks of sheets, pipes, beams, etc., of different thickness and grade
Non-standard sheet formats (width up to 4 m, length up to 16 m)
One-stop shop (everything in one place from design to production)
Availability in two locations, Zagreb and Varaždin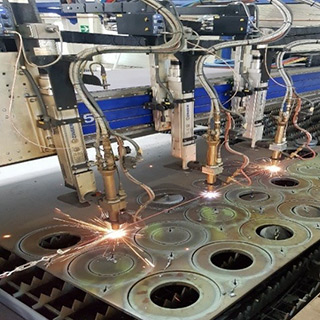 Plasma and flame custom cutting of steel and inox, either on our products or on your material
Our modern, high-quality CNC steel cutting machines enable us to offer steel cutting services on 4,000x28,000 mm and 3,000x12,000 mm table sizes. We use high precision High Definition and True Hole® cutting technology.
Our plasma cutters work quickly and efficiently, according to your needs, on materials ranging from 4mm to 50mm (including INOX), with marking and 3D bevel cutting at up to 45° (V,Y,X,K) as additional options.
We also offer flame (gas) cutting services for a thickness range from 10mm to 250mm with 1-4 torches simultaneously.
Our competitive advantage is reflected in the fact that we always have in stock approximately 7,000 t of different sheets so that custom cut blanks for our buyers can be prepared within a very short time of the purchase order.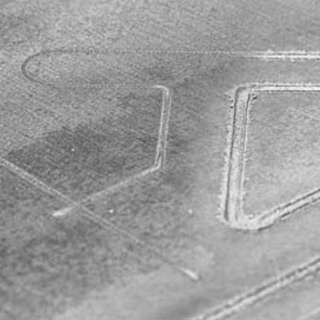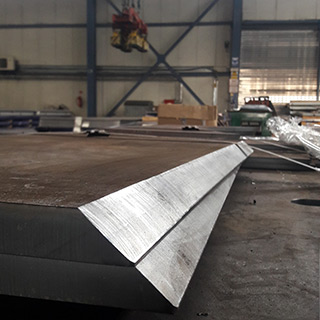 Pre-weld preparation
In order to help you do your difficult welding processes (e.g. robot welding) easily and quickly, we can do the pre-weld preparations for you.
Our excellent milling machine will be used to mill your cutting positions without thermal distortion, thus preparing it for welding according to your requirements and needs, at a chamfer from 15° to 60° and a material thickness range from 8mm to 80mm.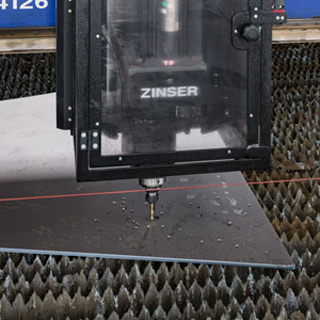 CNC sheet punching
In addition to cutting, our high precision CNC puncher enables us to punch precise holes of up to 32mm in diameter on steel plates with a maximum thickness of 250 mm, all in one process. In this way, we can skip one step in our production cycle and mitigate the risks accompanying hole positioning.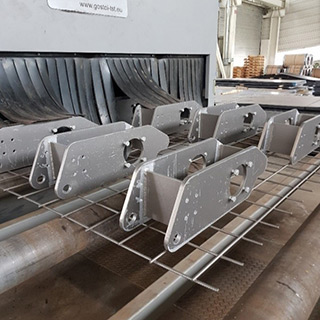 Sandblasting of sheets, bars, pipes and welds
On your request, we can sandblast using a 3300x600mm roller conveyor shot blasting machine, all in accordance with the ISO 8501-02 standard. Sandblasting is most commonly used for descaling, derusting, removal of paint and pre-paint preparations, deburring and general surface preparation before welding, cutting and processing.
Sandblasting of sheets ensures a high level of product surface purity.
In our plant, we can process hot rolled sheets (from 4 mm), other flat products, channels, beams, angle pieces, bars, welded joints and simple structures.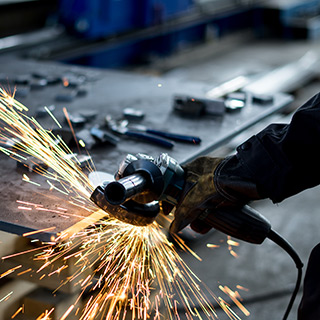 Cleaning of cutting positions
After deburring, the material (sheet) has no sharp angles. At the same time, this process removes all ridges and cut-out-rests.
Why do metal products need to be cleaned?
Deburring removes irregularities from the product, so it can be prepared for the next production phase.
At your request, we can add a deburring service to our quotation.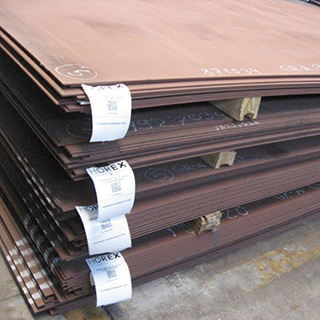 Primer painting
Upon the customer's request, shipbuilding sheets are normally blasted to a surface roughness of SA 2 ½ using our automated sandblasting machine. The sheets are protected by the factory two-component zinc ethyl-silicate coating (shop primer Hempel ZS 15890) applied in 15-20 micron layers. The minimum sheet thickness for sandblasting is 5 mm.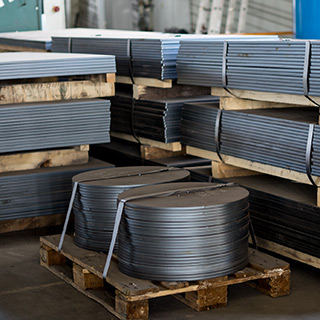 Custom packaging
When we package products and prepare them for transport, we normally use standard wooden pallets and stretch foil, whereas long products are bound together with steel strip so as to avoid potential damage in transport and to make unloading easier.
If you have any special requirements in terms of packaging and/or sorting, please do not forget to indicate this in your enquiry and purchase order, and we will do our best to accommodate your wishes.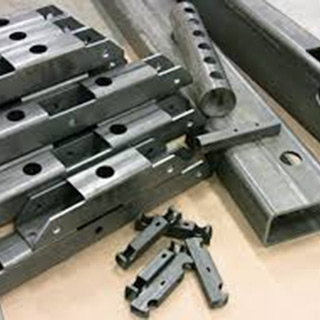 Laser pipe cutting
We also offer laser pipe cutting services. Laser cutting is a high precision technique used for simple custom pipe and tube cutting. The Adige pipe cutting laser makes it possible to cut positions with a maximum gauge of 120x120 mm (up to 15kg/m) and maximum lengths of 3m. We can cut square, rectangular and round steel and inox pipes.
Why choose our laser pipe and bar cutting service?
If you leave this operation to us, your desired elements will be immediately ready for fitting and installation. You do not have to take on the task yourself of sawing and punching, but the bars will be cut precisely in sizes according to your requirements. This will significantly shorten your fitting and installation time. You would also no longer have to work with long pipes in your own workshop, which gives you a number of practical advantages.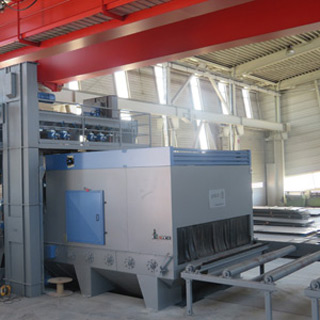 Additional processing as part of business cooperation with select partners
Our many contacts and wide cooperation with trusted business partners give us the confidence to offer you additional product prefabrication services on vertical and horizontal machining centres, lathes, CNC benders, grinders, coordinate-drilling machines, etc.